The Headquarters of The United States Links Croquet Association, are Located at, Eastbay Croquet Plantation, Koontz Lake, Indiana
Eastbay Croquet Plantation is a Mecca of Croquet. For Over a Century Croquet Balls
have been Rolling Down her Hilly Slopes. Over the Past Century many Course Improvements
and many Legends have been Made!

Today Eastbay Croquet Plantation is Home to many of the World's Major Extreme Links Croquet Tournaments.
These Events are typically held on "The Old Links Course", at Eastbay Croquet Plantation.

The Old Links Course, provides a Stern Challenge for even the most Skillfull Croquet Master. The Old Course
with her Quick Zoysia Fairways, Abundance of Water Hazards, Magnificant Sand Bunkering,
and her Renowned Knee High Rough will make a Believer Out of any Croquet Master.

Click on the Old Links Course Page for a Wicket by Wicket Tour of The Old Links Course.

Eastbay Croquet Plantation has so much more to offer, including "The Traditional".
The Traditional is a smaller course, played in a more traditional Croquet Environment,
but still in Extreme Links Croquet Fashion.

Eastbay Croquet Plantation also boasts State of the Art Practice Facilities, including a Driving Area,
Short Shot and Bunker Practice Area, Video Training Room, Fine Dining, and a Full Line of
Croquet Mallets, Balls, and Accessories in the Master Pro Shop.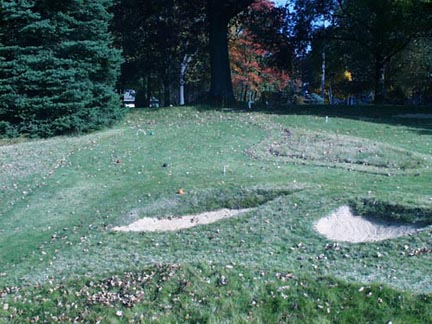 The Old Links Course
This a view of The Old Links Course from Koontz Lake. This Steep Hill
and Deep Pot Bunkering provides for both Picturesque Beauty
and Challenging Extreme Links Croquet. Click on
The Old Course Page for a Wicket by Wicket Tour
of The Old Links Course, at Eastbay Plantation
The Traditional
The Traditional (pictured to the right) is the perfect spot for a quicker game,
and it has less of a premium on demanding shot making.
The Rules are the same, and Extreme Croquet Action Prevails.
A send to the Road or under a tree or into the Flower Garden,
are all the norm in a Match Held at The Traditional.